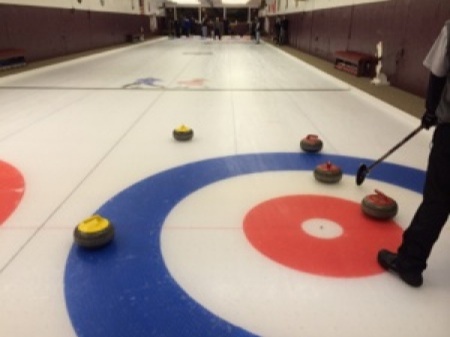 Would you like to learn to curl? The great folks at the Petersham Curling Club are offering "Learn to Curl" sessions on Wednesday, October 5, and Friday, October 7, 2016 from 6-9pm. From the PCC Facebook page:
Ever wanted to try out the awesome sport of curling? Well, here's your chance! On Oct 4th, 5th and 7th at 6 PM, Petersham Curling Club will be holding Learn to Curls. There will be plenty of great instruction from experienced curlers, both on and off the ice, to get you out there and throwing some stones! (And maybe even get in a game…) The cost is $40 per person and all we ask is that you come with sturdy shoes with clean soles (we'll provide all the other equipment). The age limit is 5 years and older, so bring your kids, too! Respond to this post and we'll get you on the list — it fills up quick, so don't wait. Come try the Olympic sport of curling!
More information can be found on the PCC Learn to Curl page. Petersham Curling Club is the closest curling club to our region. It's about 45 minutes south of Keene, NH, down Route 32.
There are still spots available. To sign up, you need to contact Ted Paul at 978-815-1666 or [email protected]