We are a group of people who play the sport of curling and want to bring it to a dedicated facility in the Monadnock region so that many more people within our region can learn the sport and get involved.  Some of us curl right now, mainly at the great Petersham Curling Club in Petersham, MA, while others are just interested in seeing curling happen in the Keene and Monadnock region.
You do NOT need any curling experience to join us! Having an interest in trying out curling is enough. Did you see it on TV and thought it looked cool?  Help us bring curling to the Monadnock region!
Some of the people involved include: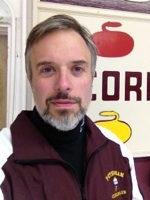 Dan York caught the curling bug when living in Ottawa, Ontario, Canada, in 2001 and played for 4 years at the Granite Curling Club of West Ottawa before moving to Burlington, VT, in 2005. In Vermont he met a group of people who were creating the Green Mountain Curling Club and helped that group get started curling at a local ice arena. He also organized a group of Vermonters who traveled just over the border into Quebec to play at the Bedford Curling Club. After moving to Keene, NH, in 2008, Dan started playing at the Petersham Curling Club where he plays in the Men's League on Tuesday nights and coaches part of the youth curling league on Saturday mornings.  He is currently finishing up his Level 1 Instructor certification with the US Curling Association and is a member of the the US Curling Coaches Association. In the 2015/2016 season he served as coach of his daughter's team traveling to the USA Curling Junior National Championships in Willmar, Minnesota.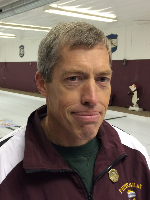 Matt Roy first started curling while living in Minnesota and curled for a couple of years at the Bemidji Curling Club.  Moving to Peterborough, NH, in 2012, Matt soon joined the Petersham Curling Club and began actively participating in several different leagues (including the Men's, Mixed and Under 5 League) and playing in teams competing in curling bonspiels (tournaments). In March 2013, he was part of a team that won the C Event Final at the 74th Annual Francis Dykes Memorial Bonspiel at the Potomac Curling Club near Washington, DC. In the 2014/2015 season Matt began participating in the new "Mixed Doubles" form of curling.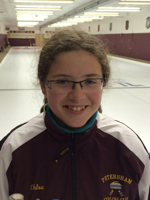 Chloe York started curling in 2011 when she was 9 years old and has been actively participating in the youth program at Petersham Curling Club ever since. She participated in youth bonspiels at Broomstones CC, Nashua CC, Cape Cod CC, Schenectady CC and Nutmeg CC (Bridgeport, CT).  She participated in the 2014 and 2015 Junior camps run by the Grand National Curling Club (GNCC) in Bucks Country, PA, and in 2015 participated in the Trillium camp in Toronto.  In the 2015/2016 season she joined "Team Rodgers" with her fellow Petersham Junior Rebecca Rodgers and two others: Anna Cenzalli (Cape Cod) and Elizabeth Janiak (Nashua).  The team won the regional playdowns and competed in the 2016 USA Curling Junior National Championships.
Want to join with us? Please fill out our "get involved" form or contact us and let us know your interest.