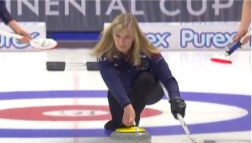 We have an amazing opportunity this weekend (Jan 17-19) to watch some of the best curling teams in the world competing against each other in the "Continental Cup" in Las Vegas.  All of it will be streamed LIVE across the Internet at:
http://www.youtube.com/worldcurlingtv
The Continental Cup is a unique format that pits 6 US and Canadian teams in "Team North America" against 6 teams in "Team World" from Scotland, Sweden, Japan and Norway.  In contrast to most other curling events that are a series of regular team games, the Continental Cup has team games, singles games, mixed doubles games and 'skins' games.  The scoring is explained on the event web site.
The remaining games that will be live streamed are (all times US Eastern):
Friday 10 PM – Team
Saturday 12 PM – Mixed Doubles
Saturday 4:30 PM – Team
Saturday 9:30 PM – Team
Sunday 4 PM – Skins
Sunday 9 PM – Skins
According to the US Curling Association web site, NBC Sports Network will also televise two of the Saturday games… although they will be broadcast on Sunday.   
The World Curling TV stream on YouTube will be streaming live, of course, and will probably be the best place to see all the action.  It should be some outstanding curling so do check it out!